This Historic Race Car Is Ready to Ride Again!
We're going to Sebring! See us at Sebring Vintage Classic on February 28 - March 3, 2019.
There was a time when anyone could bring their own car to the track and go head-to-head with automakers, professional racers, and celebrities. These drivers were called privateers. They were businessmen by trade and race car drivers by choice. These were men who plotted their racing strategies and designs in taproom and garages, and modified their cars not just to qualify, but to survive the world's toughest endurance races: Daytona, Sebring, and Watkins Glen. Some even collected a few checkered flags.
This 1967 911 is a product of that era. It was born in Stuttgart and has undergone six incredible transformations. Each time, becoming a purposeful work of motorsport art. It was configured to qualify at every turn of its illustrious career — and returned to the shape of its heyday, not once, but twice — the names of its many drivers printed on the roof for posterity. Jack Refenning is one of these names. He raced it to a 2nd-in-class finish at the 12 Hours of Sebring in 1977, and he had the pleasure of owning it twice. His shop is responsible for its latest transformation into a late 1970s IMSA GTU.
Racing Prep History
The vintage race car has undergone six incredible transformations in pursuit of the checkered flag. Here are the highlights:
In The Beginning, Porsche Created the 911
1966: Originally manufactured as a 1967 911 Coupe
This 911 was born wild in Stuttgart, Germany - 1966, A.D. Fresh from the factory, it was painted in Bahama Yellow and equipped with a 2.0 flat-six engine. The car was purchased from Erhard Motors near Southfield, Michigan, and was returned to the dealership, without its engine and transmission as a recovered theft. Given the situation, dealership owner (and German immigrant) Erhard Dahm did what any reasonable Porsche enthusiast would do, he prepped the car for racing.
Transformation #1: Reborn as a Trans-Am Race Car
Late 1960's: Trans-Am Series Race Car (2.0-liter class)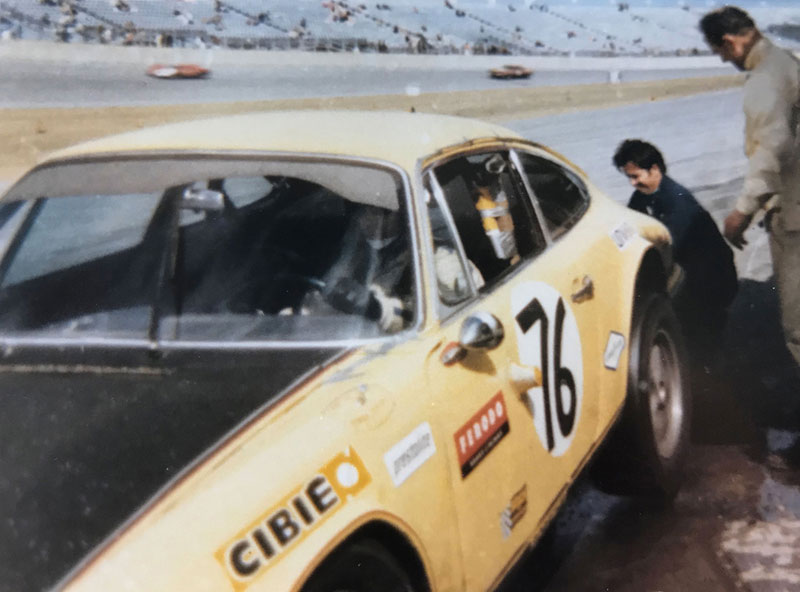 Erhard Dahm prepped the vehicle for Trans-Am Series racing with Scotty Addison, an associate at his dealership. When they were finished, it looked very much like a road version with skinny tires. Erhard drove their 911 at the inaugural Trans-Am events at Michigan International Speedway in 1969 and Addison took the helm at Watkins Glen on August 10, 1969. As a team, the two would win two fourth-in-class finishes in 1969. They began the 1970 season by filling an entry for the 24 hours of Daytona. Running as the 911 as an FIA GT car, Dahm and Addison finished fourth-in-class and 20th overall.
Transformation #2: A Club Racing Regular
Early 1970's: SCCA C Production Car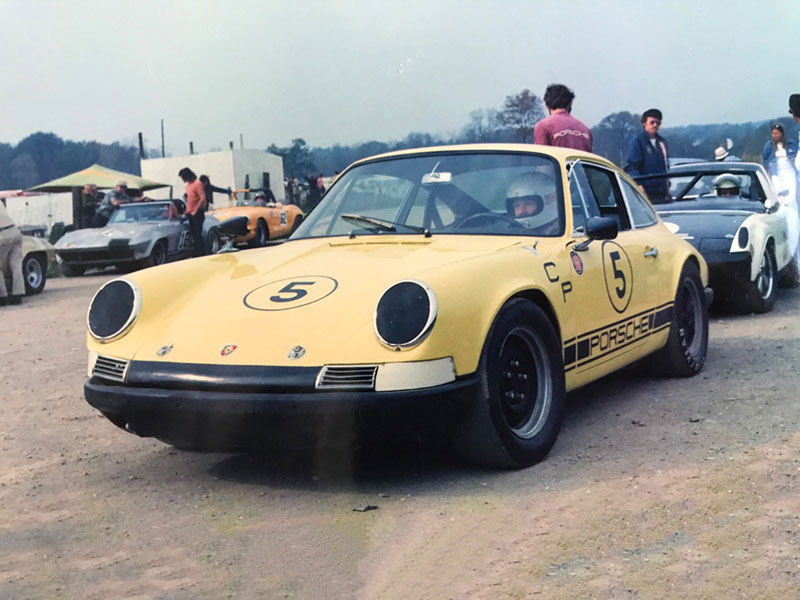 After transforming the car for SCCA racing in the C Production category, Dahm raced the car for a short time before selling it to two men from Ohio: Jim Hawthorne and Tim Vargo. Vargo found out he couldn't drive the car until he was 21, so he sold his interest to Jack Refenning. Refenning and Hawthorne enrolled in the SCCA driver's training (aka racing school) and drove the car in a few races on the circuit. However, the partnership between Refenning and Hawthorne become strained, and Refenning bought out Hawthorne. Refenning was ready to go it alone.
Transformation #3: The Road to Sebring
Mid-Late 1970's: IMSA GTU 2.5-liter class Race Car
In 1974, Jack Refenning traveled to Pompano Beach, Florida to be near family. Refenning worked as a mechanic and soon he was rebuilding engines to support his family. It was here in Florida that Refenning met Ray Mummery and Henry Grady who helped him prep the car for IMSA competition — this was the beginning of was to become The 901 Shop, a family-owned business founded by Refenning. The team finished 8th in the GTU class at the 1976 12 hours of Sebring and 5th-in-class at the 1977 24 Hours of Daytona — all with a 2.0-liter engine! Then they converted the engine to a 2.5-liter just in time for the 12 hours of Sebring in 1977. With 30 minutes left in the race, the team received word that they were in the top ten overall and first in the GTU class. Anxiously, they awaited Mummery's return to the pit. Finally, they saw Mummery's headlights in the distance. Crew chief Byron Liber inspected the car. The suspension was bent, but the tires still had plenty of air. Mummery was cleared to go and he was now in high pursuit of the checked flag. In the end, they ended up second in class by 53 seconds!
Transformation #4: The Engine Goes Pro
Late 70s-1987: SCCA D Production Car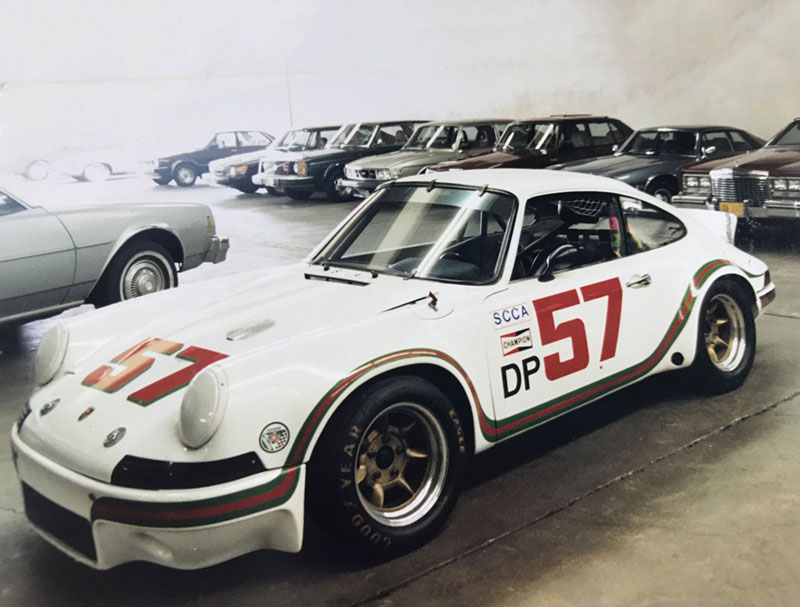 In 1978, the car was sold to John Franklin of Phoenix, Arizona who owned a Porsche repair shop. Franklin wanted the car for showcasing the shop's talents, and he planned to have his son race it. At this point, Refenning's 2.5 IMSA engine was replaced with a professionally-built 2.0-liter engine and the car was prepared for SCCA D Production racing. It was raced a few times.
By 1981 the car was owned by Bob Ames of Portland, Oregon. Ames raced it as a D Production a number of times but wanted to switch to another racing class. He traded his 911 for a Mercedes at Porsche racer Monte Sheldon's dealership in Portland.
Transformation #5: A Dahm Beautiful Vintage Racer
1987: Restored SVRA Group 6
Monte Sheldon's ad in Autoweek attracted the attention of Alan Friedman, who had been looking for a 911 that was eligible for SVRA Group Six racing — one that had a documented race history and had been raced as an FIA GT before 1972. Friedman bought the car from the dealership and had it shipped to Reston, Virginia.
Friedman raced the car in several SVRA events at Watkins Glen, Summit Point, Sebring, and elsewhere. His best finish was first-in-class and sixth overall in a two-hour endurance race at Watkins Glen in 1988. In 1992, Friedman's 911 was certified as a SVRA Group Six-eligible historic race car.
Transformation #6: A Florida Homecoming
Current: Restored IMSA GTU 2.5-liter class Race Car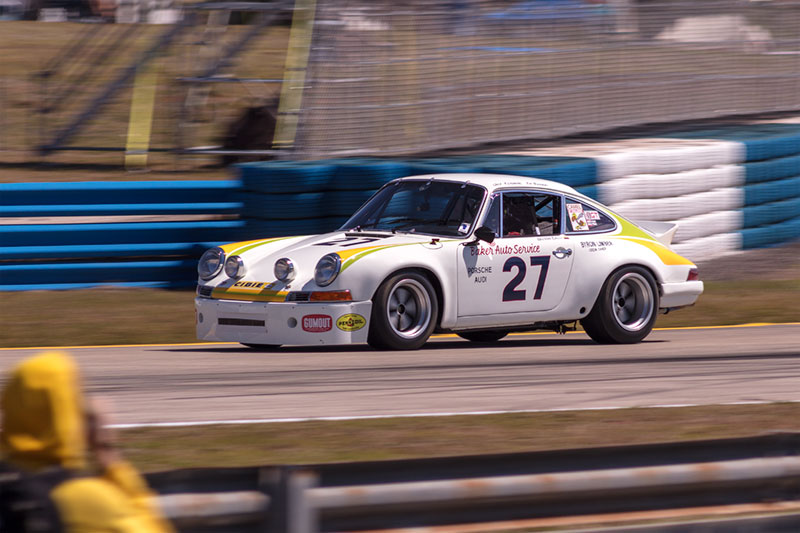 This 1967 was the car that really started it all for Jack Refenning. It was the car that enabled him to build a career around racing and modifying classic 911's. So when Refenning had a chance to buy the car again and restore it to late 1970s Trans-Am appearances, he did just that, recreating the car he raced to an incredible 4th-in-class finish in his youth. The car is now equipped with a 2.5-liter twin plug engine, full roll cage, fire system and fuel cell for endurance racing. As for the 901 Shop, it is still in business today, and is now owned by Refenning's son.
What's Next
This 1967 911 vintage racer was purchased in 2018 by the Classic Motors team. With CEO Nelson Calle in the driver's seat, #27 is ready to hit the track once again!
If you share our passion for custom 911's, head over to STRAAT, our Porsche 911 restoration and customization business. Whether you want a classic 911 for the concours or the track, a daily driver or weekend escape, the team over at STRAAT won't stop until they get you behind the wheel of your dream car.